Low Hai Hong 刘海宏
Low Hai Hong is a second generation Nanyang artist from Singapore.  A well respected artist amongst his peers, he is known for his oil paintings.  He is the rare artist in Singapore that paints oil on paper, and he pioneered the painting of oil on Chinese rice paper.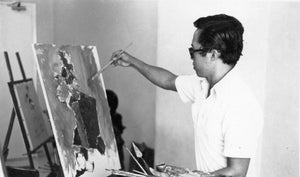 Nanyang Academy of Fine Arts
Born in Indonesia in 1941, Low loved to draw as a child.  Without letting his parents know, he secretly signed up for a course in Western painting at Nanyang Academy of Fine Arts (NAFA), Singapore's only art school at that time. 

He would go to school (Tung Meng school) in the morning, and sneak off to NAFA for classes in the afternoon.  He graduated from NAFA at 21 years old, and thus began his life long journey in art.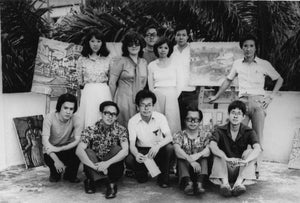 Words of his Teachers
He never forgot the teachings of two teachers at NAFA, who instilled in him the dedication and commitment to painting. 

Georgette Chen 張荔英 was a petite lady who was very strict with her students.  She impounded on him the importance of the basics in painting, particularly drawing skills.  She told him: "To be a true artist, you must master the basics, never be afraid of hard work, never be afraid of poverty and never regret going on this path.  And when you are on this path, don't seek material wealth, look for richness in the mind and spirit."  

Chen Chong Swee 陈宗瑞 was a very hardworking artist who believed that a successful artist is 1% talent, 99% hard work.  He told him: "Polish your technical skills first, then look for ways to inspire and nurture your thoughts.  Never give up."
Life of an Artist
His father did not like him to be an artist, so after graduation from NAFA, he set up his own business doing renovation works.  The business turned out to be quite successful and he continued to draw and practice whenever he can; he did many sketches of his workers going about doing their work.

His father died when he was 33 years old and he was devastated by the death of his role model.  He soon quit his business and dedicated himself to painting, becoming a full time artist in 1992.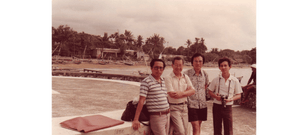 Travelling to Paint
He travelled widely to paint, often staying for months at a time.  He felt that he could only capture the spirit of the place and the people by spending time with them, by living with them, seeing what they see, feeling what they feel.  To him, you can't paint a place from a photograph without actually knowing and feeling the essence of that place. 
In the 1990s he was in Bali, Java and Sumatra in Indonesia and the east coast of Malaysia.  Many of these trips were made with his fellow painter friends and they just painted wherever they went.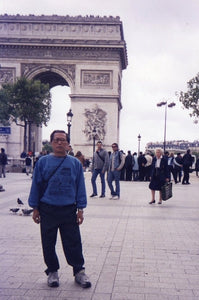 Breakthrough in Paris
In 2001, he spent five months in Paris, as part of a residency at Cite Internationale des Art.  He was 60 years old.  He was so excited to be in Paris that in his first (and only letter) home from Paris on 7 August 2001, he wrote: "Do not worry about me!  Here in Paris, I feel I am complete!  I am back to my 30 year old self, focused on the canvas with no worries, painting with all the inspiration brought about by this beautiful city.  When I return from Paris, you will see a new me, the real me, the true me, in art!"

It was a fulfilling trip.  In the day, he would go to the museums to see the works of the masters, often spending hours pouring over their works.  He would walk around  the city, absorbing everything he saw.  In the night he would return to his studio and paint furiously, "downloading" everything he learnt and felt onto the canvas and paper.  

Paris proved to be the most important and creative breakthrough in his art journey. He returned to Singapore armed with many paintings painted in Paris, and bursting with new ideas of techniques and inspiration.  
Studio in Malacca
 In 2003, he started a studio in Malacca.  He needed space; physical space to paint and mental space to focus on his painting without distractions.  He had a lot to think and reflect, execute and practise, after his Paris milestone trip.  The time in Malacca was very productive; he created many new works and most of them turned out to be the best paintings in his art career. 

Based in Malaysia also meant he painted many scenes of Malaysia, especially Malacca, Kuala Lumpur and Penang.  He loved painting plein-air because he felt painting on the spot captures the mood of the painting best.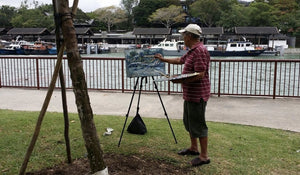 Base in Shanghai
In 2007, he started to base himself in Shanghai, with a small studio set up.  China provided him with many subjects to paint.  The four seasons gave him a new perspective in his paintings that sunny Singapore could not.  He painted the same park near his studio throughout the year, and years he was there, capturing it in spring, autumn and winter.  China gave him majestic mountains, vast lands, and ancient architecture to paint, scenery that Singapore could not. 

Someone asked him once, don't you feel lonely when you are overseas painting? He replied: "Definitely. I feel lonely and I miss my family, but these are only minor hardships that I have to endure in order to create better paintings."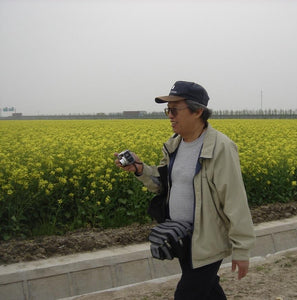 Leaving A Legacy
He was 73 years old when he decided to stop his gruelling travels, after 7 years in Shanghai and a health scare.  He returned to Singapore and set up his studio in a rented house.  After all these years of travelling overseas to paint, he was finally home.  
Now that he was back in Singapore, he finally had the time to organise his paintings. He held two solo exhibitions featuring 40 paintings each at the galleries at NAFA in 2017 and 2018.  He was planning for a major retrospective solo exhibition when he was suddenly diagnosed with terminal stage cancer. 

He told his daughter: "Don't be sad.  I have lived a good life.  I had the opportunity to pursue my dream, to do what I love; what more can I ask?  I have done my best for my dream, worked hard and never give up; what more can I ask? I have a loving wife who supported me in my dream till the very end, what more can I ask?"

Low Hai Hong passed away peacefully on 22 June 2020 surrounded by his loved ones.  He leaves behind a thousand paintings, his lifetime of works.